4/19/2018 Accidental overdoses continue to rise across our country, leaving families at a loss as to how to assist the children who are grieving. When Melody Ray, Volunteer Coordinator/Grief Specialist for Home Nursing Agency and Family Hospice and Palliative Care, sought resources to help local children and families cope with losing a loved one to an overdose, she came up short.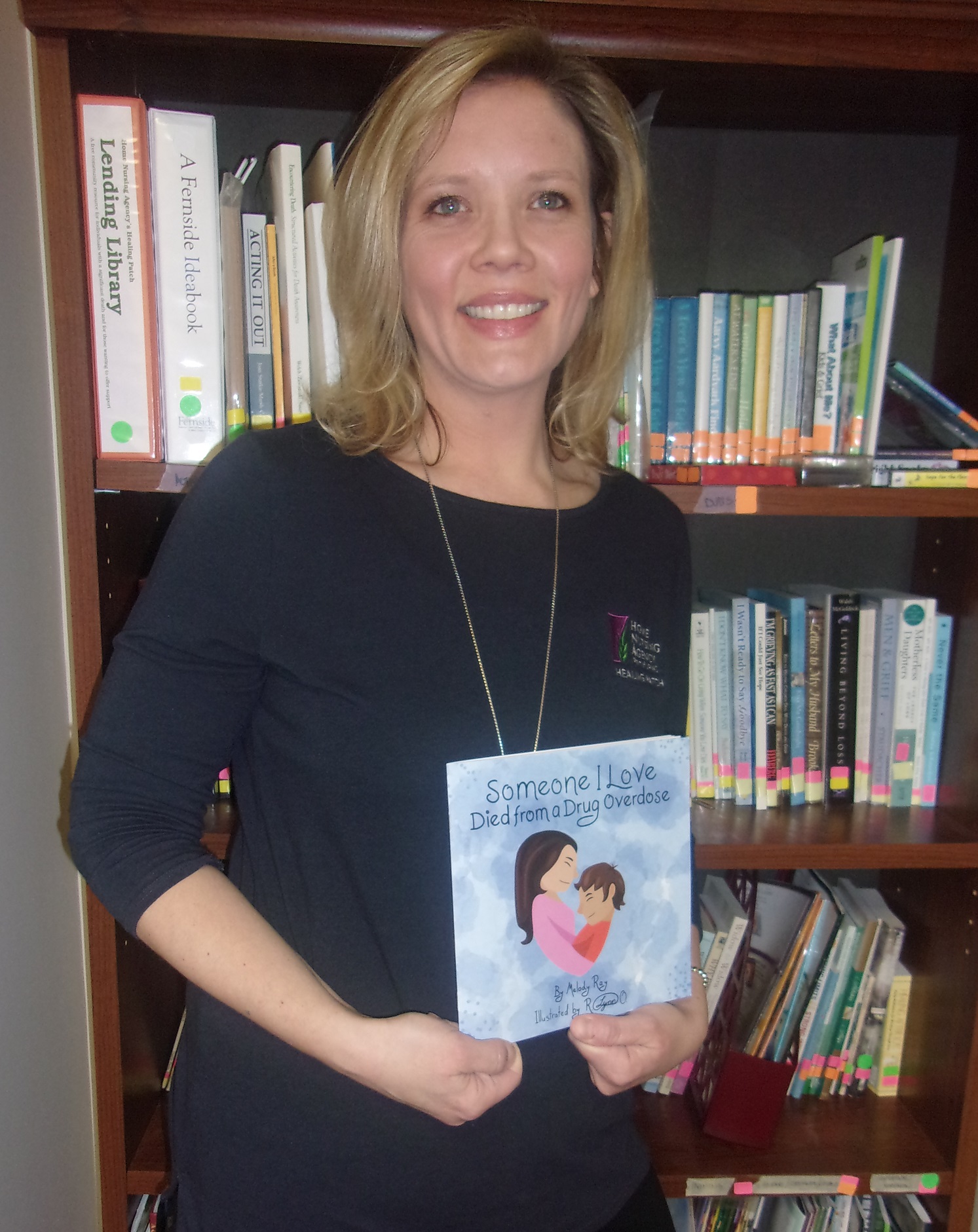 The lack of resources prompted Melody to author a book, Someone I Love Died from a Drug Overdose. 
The news of this new resource has been shared by various local news outlets:
WTAJ TV10 | Children's book helps families talk about drug overdoses
WJAC | Local woman hopes new book will help children dealing with overdose of family member
Tribune-Democrat | Nanty Glo resident writes book for children grieving OD deaths 
Shoppers Guide | Specialist authors book for youngsters
Melody has witnessed firsthand the impact overdoses have on children. Through her work with Home Nursing Agency's Healing Patch, a support program for children and families who have lost a loved one, Melody noticed more and more families losing people to substance abuse. 
"Parents asked how to talk with their kids about substance abuse and overdoses. I struggled to find resources, so I took what I know from the grief field and this stigmatized type of loss in creating the book," Melody said. 
Last summer, while participating in a children's grief symposium, Ray spoke with representatives from a publisher, who concurred about the lack of resources surrounding this topic and agreed to publish the book. 
"There is so much stigma surrounding the opioid crisis. I wanted to get the conversation started," Melody shared. "The more it is talked about, the more people won't feel alone, and the more they can deal with the grief." 
Her hope in writing the book is to assist families in communicating honestly about losing a loved one to an overdose, as well as raising awareness regarding grief needs of children who have lost a loved one to an overdose. 
Someone I Love Died from a Drug Overdose is available on Amazon and has also been added to the Healing Patch's Lending Library of resources for the community. 
Melody joined Home Nursing Agency in 2012 as a volunteer coordinator/grief specialist. She earned her Bachelor of social work from St. Francis University and her Master of social work from the University of Pittsburgh at Johnstown. She went on to gain experiences in drug and alcohol counseling and child welfare before joining Home Nursing Agency. She lives in Nanty Glo with her husband and two daughters. 
### 
About the Healing Patch
Home Nursing Agency started the Healing Patch: A Program for Loss and Hope for Grieving Children and Their Families in 2006 as a free peer support program for children and their families who have suffered the loss of a loved one, such as a parent, sibling, grandparent, or close family member. Since that time, the program has expanded to support children through in-school services, lending libraries and other community services. Sharing memories and experiences allows grieving children and families to discover that what they are going through is normal and that hope and healing are possible. The Healing Patch is a free service to the community and relies on individual and community donations, grants and fundraising events for support.