WIC (Women, Infants, and Children) Nutrition & Education Program
100% compliance at HNA WIC Nutrition Centers from Department of Health
For mothers and children thru age 5

"We could not have done it without WIC. I was grateful to get the formula when they were babies, and now I am happy they get the foods they need to stay healthy and be at good weights."

-Blair County, PA
family with triplets

Designed specifically for women, infants, and children, this program provides vouchers for nutritious foods and education in a supportive environment. WIC is a federally funded program designed for pregnant women, postpartum and breastfeeding women, infants and children under age five.
Home Nursing Agency operates WIC in Blair and Centre counties, serving more than 5,000 women, infants and children each month. WIC eligibility is based on income for those family members who have a nutritional risk. Since 2009, WIC now offers some newer choices to the food package to reinforce important nutrition messages and provide choice and variety to our WIC families.
Recently, three nutritionists for Home Nursing Agency's Centre County WIC Program received their International Board Certified Lactation Consultant (IBCLC) credential. IBCLCs are experts in lactation and breastfeeding care, whose skills allow them to work to promote, protect and support breastfeeding.
Our Office Locations:
Altoona
206 West Plank Road
Altoona, PA 16602-3014
814-943-0481
State College
270 Walker Drive, Suite 100
State College, PA 16801-7097
814-234-8621
Triplets Thrive! WIC Proves Essential for Tyrone Family: Before & After – Agency's Pediatric Specialty Services Provide Education, Guidance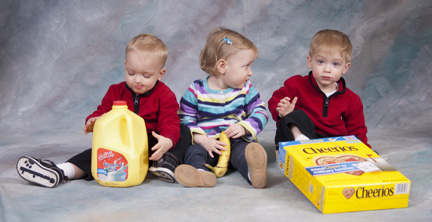 When Joey Lewis of Tyrone first saw three little specks on the screen during a sonogram early in her pregnancy, her first thought was, "Financially, how are we going to do it?" Thus far, one answer to that question has been the Women, Infants and Children (WIC) program.
As first-time parents, she and her husband Dusty enrolled in Home Nursing Agency's Nurse-Family Partnership® for support and education from a nurse, who referred them to WIC so Joey could get the proper foods to provide nutrition for her three growing babies.
In May 2010, six weeks before her due date, Joey and Dusty welcomed triplets Jordan, Tanner and Elly into their lives and quickly learned that going through an entire can of their special formula each day was not unusual. "We could not have done it without WIC," Joey explains. "I don't know how we would have bought all the formula they needed."
The triplets are periodically evaluated by HNA's Early Intervention program to make sure they hit developmental milestones, and by six months, they were on track with full-term babies. As their abilities matured, so did their diets, which now include fruits, vegetables, dairy, starches and proteins, many of which are provided by WIC.
"Now, they drink about a gallon and a half of milk every day," Joey explains, thankful for WIC's provision of milk, eggs, juice, cheese, vegetables and other essential foods. "I was grateful to get the formula when they were babies, and now I am happy they get the foods they need to stay healthy and be at good weights."
Supporting families from pregnancy through childhood, Home Nursing Agency is a trusted resource for the Lewis family with Nurse-Family Partnership®, Early Intervention and WIC helping them to transition from a couple to a happy, healthy family of five.
Photo caption: Jordan, Elly and Tanner Lewis of Tyrone enjoy the important foods like milk, bananas and cereal their family receives through the support of Women, Infants and Children (WIC) Nutritional Program.
For more information about the WIC Program in Pennsylvania, visit the website at www.pawic.com
Non-Discrimination Statement
In accordance with federal civil rights law and U.S. Department of Agriculture (USDA) civil rights regulations and policies, this institution is prohibited from discriminating on the basis of race, color, national origin, sex (including gender identity and sexual orientation), disability, age, or reprisal or retaliation for prior civil rights activity.
Program information may be made available in languages other than English. Persons with disabilities who require alternative means of communication to obtain program information (e.g., Braille, large print, audiotape, American Sign Language), should contact the responsible state or local agency that administers the program or USDA's TARGET Center at (202) 720-2600 (voice and TTY) or contact USDA through the Federal Relay Service at (800) 877-8339.
To file a program discrimination complaint, a Complainant should complete a Form AD-3027, USDA Program Discrimination Complaint Form which can be obtained online at: https://www.usda.gov/sites/default/files/documents/USDA-OASCR%20P-Complaint-Form-0508-0002-508-11-28-17Fax2Mail.pdf, from any USDA office, by calling (866) 632-9992, or by writing a letter addressed to USDA. The letter must contain the complainant's name, address, telephone number, and a written description of the alleged discriminatory action in sufficient detail to inform the Assistant Secretary for Civil Rights (ASCR) about the nature and date of an alleged civil rights violation. The completed AD-3027 form or letter must be submitted to USDA by:
mail:
U.S. Department of Agriculture
Office of the Assistant Secretary for Civil Rights
1400 Independence Avenue, SW
Washington, D.C. 20250-9410; or
fax:
(833) 256-1665 or (202) 690-7442; or
This institution is an equal opportunity provider.
05/05/2022