3/17/2020 UPDATE The Healing Patch Children's Grief Program Volunteer Open House that was scheduled for Tuesday, March 31 at the Cambria location in Ebensburg has been cancelled at this time. For more information about Healing Patch services or volunteer opportunities, contact Shalen Steinbugl, volunteer coordinator/grief specialist at 814-947-7140 or This email address is being protected from spambots. You need JavaScript enabled to view it..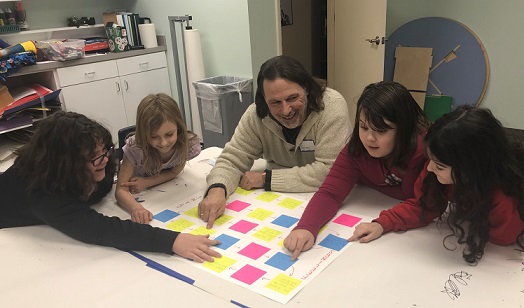 3/6/2020 One in five children in America will experience the death of someone close them by age 18. Behind this staggering statistic are real children who are struggling with difficult emotions like loneliness, fear and anger. At the Healing Patch Children's Grief Program, grieving children learn they are not alone and that hope and healing are possible. Learn about how to get involved as a volunteer at an Open House on Tues., March 31 from 2-4 and 6-8 p.m. at the Cambria Healing Patch, 118 Ebony Rd., Ebensburg.
Community members will have the opportunity to interact with current volunteers and learn how the program supports grieving children. The Healing Patch is a free peer support program for children to connect with others facing a similar loss and for families to embark on a journey of healing together.
Responsible for operating the soup kitchen in downtown Johnstown, Greg Karcher understands the value of using his time to serve others. When he became a Healing Patch volunteer two years ago, Karcher wasn't sure exactly what to expect as he worked in the "Littles Room" with the program's youngest participants.
"I find it really rewarding to help these children and families and bring them joy through the process," Karcher shares. By integrating fun activities like games and art projects, the volunteers provide an environment for children to feel safe in sharing with their peers. Recently as pictured, volunteers planned a board game that touched on loss, allowing the children to share about their feelings and their loved ones who died.
"It's really about the kids getting to know one another," Karcher says. "It's heart-warming and heart-wrenching to hear the stories the kids share and to see the friendships and bonds they form with each other."
Volunteers are the driving force of the family/peer support sessions that take place in the centers as they serve in various roles: facilitating group activities, greeting families, serving food and completing sewing projects such as memory bears and quilt squares that give children a tangible connection to their loved ones. Group nights take place two evenings a week throughout the school year.
In addition to the family sessions that are held at the Ebensburg center, the Healing Patch offers in-school support for children who cannot attend a center, educational presentations in schools and the community and an expansive Lending Library of resources.
For more information about Healing Patch services or volunteer opportunities, contact Shalen Steinbugl, volunteer coordinator/grief specialist at 814-947-7140 or This email address is being protected from spambots. You need JavaScript enabled to view it..