1/30/2020 Home Nursing Agency Private Duty Home Care announced today that it has received the 2020 Best of Home Care® – Provider of Choice Award from Home Care Pulse. These awards are granted only to the top-ranking home care providers, based on client and caregiver satisfaction scores gathered by Home Care Pulse.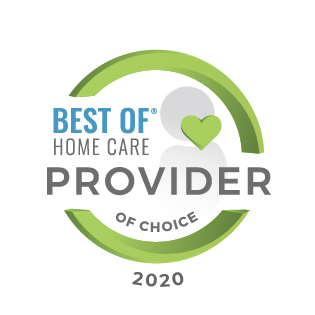 For the eighth consecutive year, Home Nursing Agency Private Duty Home Care has been ranked among a small handful of home care providers across the country who have proven their ability to provide an exceptional working experience to employees and the highest quality care to clients. Private Duty Home Care serves Central PA clients in the following counties: Bedford, Blair, Cambria, Centre, Clearfield, Huntingdon and Somerset.
"We want to congratulate Home Nursing Agency on receiving the Best of Home Care – Provider of Choice Award," says Erik Madsen, CEO of Home Care Pulse. "Since these awards are based on real, unfiltered feedback from clients and caregivers, Home Nursing Agency has proven their dedication to client and caregiver satisfaction. We are pleased to recognize their dedication to quality professionalism and expertise in home care."
Best of Home Care providers have contracted with Home Care Pulse to gather feedback from their clients and caregivers via live phone interviews each month. Because Home Care Pulse is an independent company, it is able to collect honest and unbiased feedback.
"We are so grateful for the clients who welcome us into their homes and recognize the work that our staff do each day to help them remain independent at home, says Bill McManus, Home Nursing Agency Vice President of Business Development and Client Relations. "Receiving this award for eight years testifies to our commitment to providing excellent care and service."
To find out more about Home Nursing Agency's commitment to excellence or get more information about coordinating services, call 1-800-315-4360.
About Home Nursing Agency Private Duty Home Care
Home Nursing Agency began providing home care services in 1972 to support those who need help at home. Whether clients need short term assistance recovering from an illness or surgery or suffer from a chronic condition, the Private Duty Home Care team provides national recognized support that is customized to clients' needs. Offering personal care, household management, and companionship, Private Duty Home Care benefits both clients and their family members with goal of clients remaining safely at home.
About Home Care Pulse
Home Care Pulse is the home care industry's leading firm in satisfaction research and quality assurance. On behalf of home care businesses across North America, Home Care Pulse gathers unbiased satisfaction ratings from clients and caregivers and detailed feedback to ensure the best in-home care possible can be provided. Powerful online reports allow businesses to identify needs and take action to reduce increase satisfaction, reduce caregiver turnover, and address client needs. For more information, please call Home Care Pulse at (877) 307-8573 or visit homecarepulse.com.